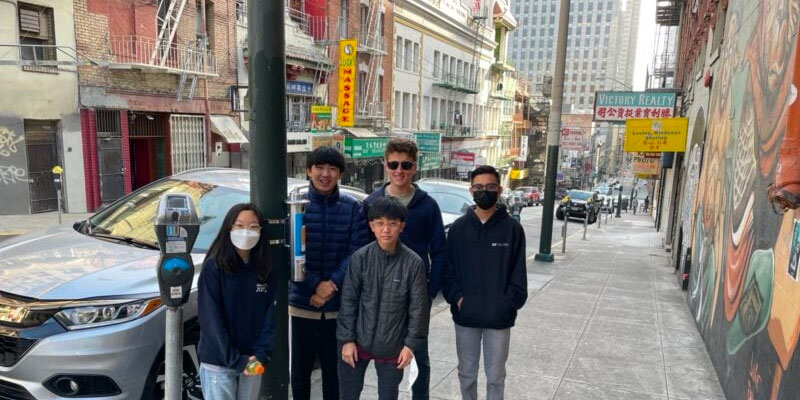 04.12.22
Surfrider and Scouts of America (BSA) Partner In The Campaign Against Cigarette Butt Litter in San Francisco
By Kenneth Pechous
Local Eagle Scout Candidate Channels BSA Outdoor Code to Orchestrate a Wildly Successful Campaign to Help Rid San Francisco of Nasty Cigarette Butt Litter
San Francisco, Calif., April 13, 2022 – San Francisco Surfrider Chapter, part of a leading nonprofit organization dedicated to the protection of clean water and healthy beaches, is excited to report a significant win for the "Hold On To Your Butt (HOTYB)" campaign to prevent cigarette butt litter in San Francisco and the Golden Gate National Recreation Area. Led by Eagle Scout candidate Noah Pak, a band of 19 up-and-coming stewards of the environment from local Scout Troop 343 descended upon the streets of San Francisco and successfully installed 50 cigarette butt receptacles (cans) along 5 separate neighborhood corridors including Chinatown, Japantown, Fillmore, The Haight, and Inner Sunset. These devoted Scouts, consisting of young men and women ages 11 to 17 worked closely with Pak to plan and meticulously map out ideal butt can installation sites. Longtime core HOTYB volunteers provided installation training and helped confirm the local permit/ordinances, waivers, and calculate installation supplies. The Scouts took it from there and were off and running, executing with tenacity and precision.
When asked why he chose Surfrider as his final service project partner toward earning Eagle Scout status; Pak, inspired by the BSA Outdoor Code (I will do my best to - Be clean in my outdoor manners, Be careful with fire, Be considerate in the outdoors, Be conservation-minded) replied "I chose to work with Surfrider San Francisco as my final service project to help me achieve the highest rank of Eagle Scout, to represent something I feel passionate about and demonstrate what I've learned in my years as a scout. Born and raised in San Francisco, I have spent many weekends enjoying Ocean Beach and sometimes participating in Surfrider's Ocean Beach clean ups with classmates, friends and family. Surfrider's dedication to ocean protection, plastic reduction, coastal preservation and clean water resonated with me." Noah and his Troop 343 peers also managed to distribute several HOTYB posters thus helping in the outreach effort to educate the public of the harms that littered cigarette butts pose to the environment, not to mention the residents (people & pets) of San Francisco.
Way to make a difference Noah and Troop 343!